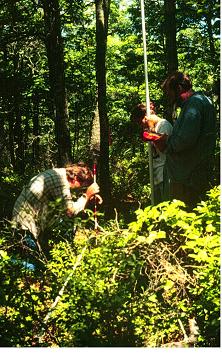 Cultural Resources
In order to ensure the preservation and protection of cultural resources at Camp Edwards, the Impact Area Groundwater Study Program coordinates all of its activities with the Environmental & Readiness Center's (E&RC) Cultural Resource Program.
The Program's mission is to protect cultural resources on Camp Edwards including:
Archaeological sites
Historic buildings
Historic structures and objects (bridges, tanks, planes, etc.)
Artifact and document collections
Historic landscapes
Native American sacred sites and properties of traditional, religious, and cultural significance.
Before the Impact Area Groundwater Study Program can install a monitoring well, or clear a site for investigation or excavation, the E&RC's Cultural Resource Manager reviews the project description and information collected for the location. If the proposed monitoring well has the potential to impact an archeological site, a survey of the area may be required prior to well installation. Modifications to the project also may be made to minimize impact to the site.
Once a course of action for the project is determined, a Project Notification form is submitted to the state Historic Preservation Office for review.
All actions concerning the cultural resources on Camp Edwards are in compliance with all federal and state legislation.